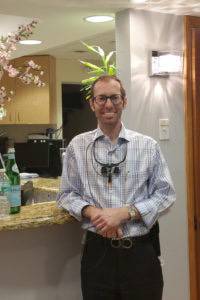 Doctor Jaskiel is one of south Florida top General Dentists helping people with pain as well as smile reconstructions. Dr Jaskiel graduated in 1999 with a Doctor of Medical Dentistry (DMD) from Boston University. He was selected to take part in an externship with Brigham and Woman's Hospital, part of Harvard University. He then did an Advanced Education in General Dentistry for two years, one year with the Dade County Dental Research Clinic and a second year as Chief resident of Nova Southeastern University. He then went on to teach Dentists at Community smiles Dental Clinic and has been on the board of directors of this teaching clinic (with about 150 dentist members) for ten years.
When he's not involved in making beautiful smiles, he's involved in charity, his wife and two children, the community, and staying current with the latest technology and advances in dentistry.
MIAMI DENTAL IMPLANTS & ZIRCONIA IMPLANTS
on Brickell Ave
In the past, the solution to replace a missing tooth was either a bridge or a denture. Often, however, these restorations did not adequately replace the missing tooth in function or appearance. Dentures and bridges can slip or break. More importantly, neither stops the bone loss that occurs when a tooth is missing.
When a tooth is extracted or lost due to decay or injury, the bone that held the tooth in the jaw is no longer stimulated. When that happens, the bone stops growing and is resorbed into the body. The teeth surrounding the missing tooth begin to shift into the empty space, causing misalignment of neighboring teeth. This, in turn, leads to greater chances of tooth decay and gum disease.
LONG-LASTING, AFFORDABLE DENTAL IMPLANTS
Implants, on the other hand, are the most modern method of replacing missing teeth. Miami dental implants dentist, Dr. Jaskiel and Dr Berkowitz, place a titanium post into the jaw bone where the original tooth used to be. This post acts as the tooth root and keeps the bone and soft tissues stimulated. An abutment is attached to the top of the post, and a crown is then secured to the abutment. The result is a very strong, natural looking false tooth that can last a lifetime. It also can withstand the normal chewing actions of natural teeth (you can eat anything!), and they don't slip.
For the simple solution to missing teeth at, look no further than Brickell Avenue Dentistry, where you will find the best dental implants Miami has available in treatment and quality.
ARE DENTAL IMPLANTS RIGHT FOR ME?
Most people can get a implant without any problems. Miami dental implants dentist Dr. Jaskiel & Dr Berkowitz, will conduct a very thorough examination to be sure you are a candidate. Sometimes a person does not have enough bone to hold an implant properly and may need a bone graft or bone augmentation prior to placing the implant.
More rarely, a medical condition may prevent someone from undergoing the implant procedure. If you are healthy enough to undertake a tooth extraction, you most likely will easily be able to receive an implant.
WHAT SHOULD I EXPECT WITH MY DENTAL IMPLANT PROCEDURE?
There are three basic steps to getting an implant:
Examination to determine if the bone in the jaw is sufficient. If so, a titanium post is inserted into the jaw bone. The post is then allowed to integrate with the surrounding bone, a process called osseointegration. This can take 3-6 months.
Once osseointegration is complete, an abutment will be placed on top of the post. This abutment will protrude above the gum line. A temporary crown that matches your surrounding teeth will then be attached to the abutment.
A final, custom crown made in a lab will take the place of the temporary crown. It is cemented to the abutment. This final crown, made of high-grade porcelain, will look and act just like a natural tooth. Now you have a strong, beautiful tooth replacement that will last a lifetime!
TAKING CARE OF YOUR DENTAL IMPLANTS
You will be delighted with your implant for many reasons, including the ease of care. You take care of an implant tooth the same way you would your natural teeth. You can brush and floss it at home and, of course, get routine cleanings done by our professional hygienists. You want to keep the implant from accumulating bacteria, which would open the door to gum disease. As with any tooth, gum disease can begin to destroy bone if not handled.
REGAIN A BEAUTIFUL, HEALTHY MOUTH WITH IMPLANTS
Dr. Jaskiel and his staff are dedicated to providing every patient the highest quality dental care possible. His diligent and careful mastery of the dental arts enable him to provide the best dental implants Miami has to offer. The entire staff works hard to make sure you are comfortable during any procedure, and their caring chairside manner will help you relax.
To find out more about dental implants at Brickell Avenue Dentistry, use our online appointment form or call us at (305) 653-2231.
Advantages of Dental Implants include;
Fill an immediate aesthetic gap
Are indistinguishable from your natural teeth
Never develop decay and never require root canals
Are biocompatible for a low environmental footprint
Prevent bone loss, maintaining your facial contours
Preserve your existing jawbone and gum tissue
Require no removal of adjacent teeth structure
Maximize the function of your mouth
Help you maintain ideal hygiene
Get your dental implants in Miami and smile confidently.
METAL-FREE, CERAMIC DENTAL IMPLANTS ARE NOW A GREAT ALTERNATIVE TO TRADITIONAL METAL IMPLANTS.
The benefits of ceramic (zirconia) dental implants include:
100% metalfree
Highly esthetic naturally white color
Bacteria and plaque resistant
Less allergy potential
Dr. Jaskiel is a strong advocate for holistic dentistry. This is dentistry that favors minimally invasive procedures whenever possible and using materials that are biocompatible with the rest of the body. Recent advancements in dental techniques and materials used have opened up greater possibilities of patients receiving oral treatments that are not toxic to their bodies and that don't cause undue emotional or mental distress. To obtain the benefits of one of the  #1 top Brickell Avenue Miami holistic dentist, Brickell Avenue Cosmetic & Holistic Dentistry is your best choice.
HOW IS HOLISTIC DENTISTRY DIFFERENT FROM TRADITIONAL DENTISTRY?
Holistic dentistry focuses on the whole body when treating dental issues rather than simply filling a cavity or seating a crown. Traditional dentistry is similar to traditional medicine; it focuses on treating the teeth without looking deeper into underlying issues that may be causing cavities, excessive plaque build-up or alignment problems. As a premier holistic dentist Miami residents can be confident that biocompatibility is of prime concern to Dr. Jaskiel when planning a course of treatment. In this way future health problems can be avoided while providing top tier restorations and other oral care.
A holistic dental philosophy is one that takes into consideration a patient's surroundings as well as the dental treatment itself. Miami dentist Dr. Jaskiel is aware of how a calm, nurturing environment enhances a patient's experience in the chair. Whenever possible, he uses conservative and alternative procedures in conjunction with high tech equipment to achieve the goals of the procedure. Our entire team is conscious of how dental procedures can affect other parts of the body and strive to make those influences positive, rather than negative.
Dr. Jaskiel uses his knowledge of how one's oral health affects the body in general to provide treatments that assist in one's overall health. For example, his protocols for safe mercury removal when removing amalgam fillings: it is not enough to only place porcelain or composite fillings instead of amalgam fillings, Dr. Jaskiel goes the whole nine yards by following strict protocols for removing amalgam fillings as well. These procedures not only protect patients from the toxic fumes from mercury,
Dental Excellence begins with holistic materials and methods
Use of digital x-rays: 90% less radiation
Mercury-free dentistry All Porcelain crowns, fillings and onlays
Safe mercury removal: / Special suctions/ Oxygen / etc..
BPA-free dentistry: Our dental Composites and sealants are free of BPA
Gum Treatment, Inflammation & Toxin removal
Oral cancer screening with visilite & Brush Biopsy (special rinse and light to see precancerous cells, and/or special brush biopsy to send to lab for evaluation)
Understanding the source of your problems not just treating them
Clifford testing: Requires blood testing. Individualized testing for dental materials biocompatibility and your body.